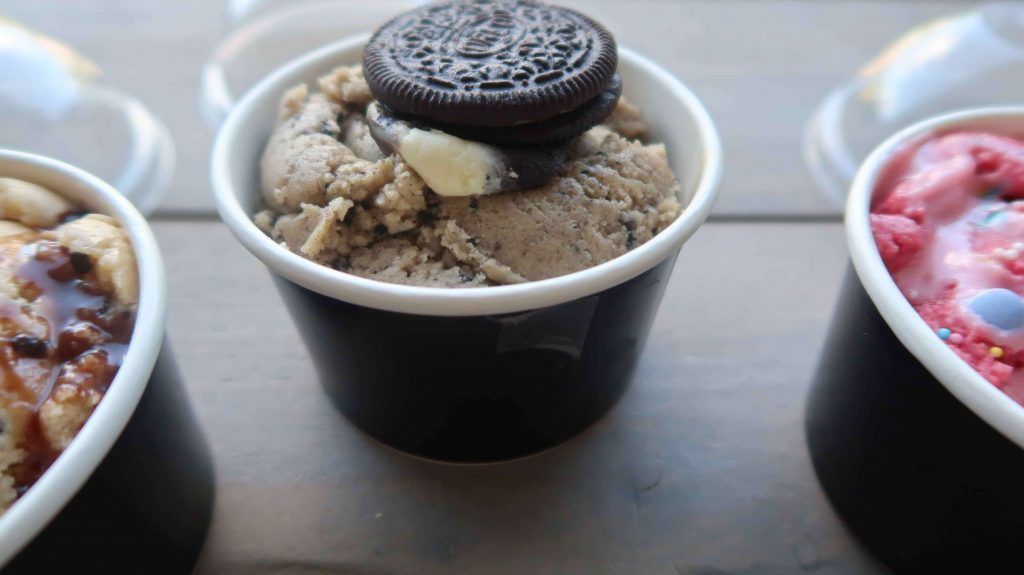 Cookie dough that you do not have to bake but can eat that way
Let's Dough it! Cookie dough you don't have to bake but can eat right away
The cookie dough from Let's Dough it, you can use to bake cookies with, but – and maybe this is even tastier- you can also eat it like this. The Cookie Dough menu's surprising taste and so delicious. Grab a spoon and eat it!
Eating the bowl of cookie dough empty
The best thing about baking a cake or cookie is actually eating the bowl of dough empty. At least I used to think so. Well this was not so wise because there was raw egg through the dough. Still, we were always allowed to lick the dough hooks, delicious this was!
Here in the house my kids like it too and how would it be if you could just eat this dough?
Eat the dough instead of the cookies
For heck you know? You are going to bake cookies but before they go into the oven you have almost eaten the dough? The owner of Let's Dough it liked this dough so much, but also used to be told not to eat it.
She thought that this could be done differently and developed a dough that you can snack on, but that you can also use to bake cookies with if you want to.
Cookie dough from Let's Dough it
On the website of Let's Dough it you will find several products. We were allowed to try the Cookie Dough and received three different flavors: Unicorn Cookie Dough, Cookie & Cream and Mug Bueno. Cookie dough that is perfectly soft, chewy and a bit crunchy, sweet but also a bit salty and different toppings on it.
Soft, sweet, crispy , what do you want?
There is a weekly changing selection of flavors at Let's Dough it. The trays of Cookie Douch we received consisted of:
The Unicorn cookie dough is a pink dough with cherry flavor, sprinkles, disco dip, smarties and mini marshmellows. Topped off with a pink glitter sauce!
The Cookie & Cream is and Oreo cookie dough full of bits of crispy Oreo and chocolate chips! As toppings, this one has cookies & Cream paste and of course an Oreo cookie.
The Mug Bueno is with belgian milk chocolate and chocolate chips. On top you will find a delicious hazelnut sauce and some more extra cream du kinderbueno and of course a piece of bueno.
Eat it this way or bake cookies with it
Each container of cookie dough contains over 250 grams of dough! Thick enough to be able to give up a bite and besides snacking on the cookie dough you can also bake delicious cookies from it.
When you place an order at Let's Dough it you get the information, but also on the site you see exactly how you can bake the cookies.
This is how to make the cookies
If you want to make cookies, you should make balls of dough of about 50 grams. You put these in the oven at 165 degrees and bake for 18 to 22 minutes. The cookies are crispy on the outside but still a bit chewy on the inside!
But there is more on the site
At Let's Dough it, you will find not only cookie dough, but also cake dough and snacks. Also the cake dough is this edible batter, so you can snack on this too. This cake batter contains no egg and is 100% safe to eat. It is a box in the flavor Birthday Cake.
The batter has a good hint of lemon and features colored sprinkles.
This batter is less suitable for baking a real cake, but all the more for snacking as such.
So grab that spoon and dive right in!
Healthy eating, but the occasional snack in between
So through the day I eat low-carb, taking care to eat less sugar and snacks, but that doesn't mean I never indulge myself. And if I am going to spoil myself, then I want to spoil myself with something really tasty and I found it now! This cookie dough from Let's Dough it, is a treat in itself.
You get that as soon as the order comes in.
Cookie lovers' opinion
Because when the order came in, the youngest immediately cried out; 'I want the pink'. The candies and chocolates on it of course made it look very attractive right away. The eldest seemed to like them all and he was absolutely right!
The dough is so good to eat just like this and this was a clear favorite, over the baked cookies. I did make a few, but I totally agreed with them. Even though the cookies were crunchy on the outside and soft on the inside, nothing beats the cookie dough and especially not being able to spoon it out of the tray.
What a surprise of flavors and how delicious.
The cookie dough from Let's Dough it is highly recommended for anyone who likes to spoil themselves! But be sure to check out all the other possibilities on the site as well!