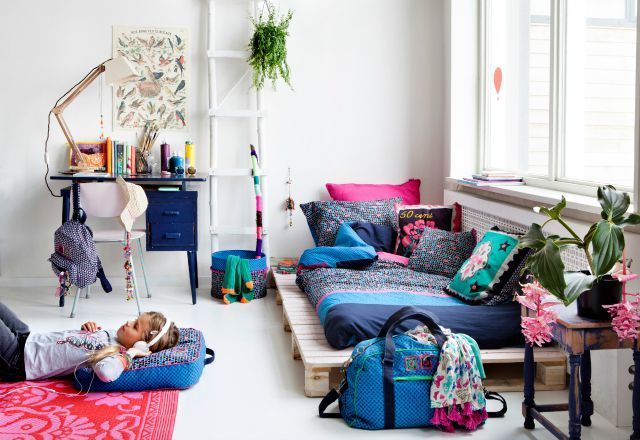 Wow! New Colorique collection
Wow! New collection Colorique
In my search for accessories for the new room of the little man I regularly came across this brand. Also when I got to decorate our brat's nursery, the cool colors caught my eye. What am I talking about? The children's articles and home accessories of Colorique.
Today I received a press release presenting the new collection. Very cool!
Colorique; Chokhi Stamps
If you do not know Colorique you should definitely take a look at the website. It is a real Dutch brand which exists for 20 years already. All collections originate from a passion for old fabrics, handicraft, cheerful colors and original products.
This is certainly reflected in the newest addition; Chokhi Stamps.
This collection is based on, as the name suggests, stamps. This inspiration is reflected in the entire line of articles with cheerful colors. I love it.
I could decorate an entire room with these cheerful and unique items. Cool colors and designs have been used. Stars you see often but also hearts for the (little) ladies.
Of course there is a stamp on every item.
My favorites
Of course I have some favorites from this collection by Colorique. I love the owl blanket. Our little man has a forest room with a cool tree house bed. One wall in his room is completely green.
The owl blanket would look great on him. It is a rug measuring 120x84cm and it is on sale for €52.95. Which I think is a reasonable price for a quality product.
For a cool girls room I think the cushion covers in this collection are very cool. Cheerful colors, trendy designs. Throw a few pillows on a bed or couch and your whole room will brighten up.
The cushion covers below are on sale for €22,50 each. They are 50x50cm, which I think is a nice size because they stand out so nicely.
Did you know Colorique already? What would you like to have from their cool collection?
♥ ♥ ♥ Fulltime Mama uses affiliate links. This means that if you click on one of the links, we might get a small commission on it. It costs you nothing extra, but it gives us something in return. With these proceeds we can maintain this website. Also sometimes we get paid for an article or we get a product in exchange for a blog post.
Our opinion remains unchanged and honest. For more information, please read the disclaimer. ♥ ♥ ♥