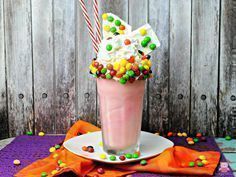 Banana Milkshake- healthy easy and quick recipe
Banana Milkshake- healthy, easy and quick recipe
A banana milkshake, delicious! But I also think about the line and where I would make a milkshake with ice cream before, I now make it in a super healthy way. The taste is just as good.
And so made!
Eat enough fruit
During the week we all get our milk products and amount of fruit just fine. In the morning we start standard with muesli and milk or yogurt, fruit goes with the boys as a ten o'clock and also at home they often eat an apple or pear. Weekends here at home are more problematic with healthy eating. I often forget milk products, we have breakfast later ( with bread) and the ten hour is often skipped.
Normally I don't make a smoothie that quickly. It's healthy, but I'm more of a piece of fruit eating like this. I'm more into eating fruit than drinking it.
However on the weekends I make exceptions so. To still get our fill of fruit I make a smoothie or – with warmer weather- a milkshake and then the banana milkshake is a favorite.
Read also: oatmeal bread with banana
Freeze those bananas
In fact, you should just freeze some fruit right now. Nowadays there is a container with sliced banana in the freezer, ready to make a banana milkshake. Of course the frozen fruits you buy in the store are fine too.
Quick and easy to make a milkshake
It's super simple: put frozen fruit in the blender. Add milk and blend! Your banana milkshake is ready to go. This can be done with what I often do) banana.
I then use 1 banana for 2 milkshakes. But of course you can use any frozen fruit that is in your freezer.