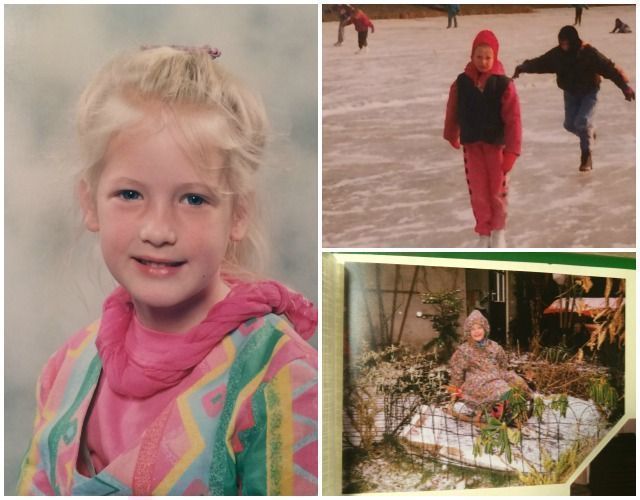 A cold memory of my childhood
A cold reminder of my childhood
Every now and then memories from my childhood come up. Often those are nice or special moments. Once in a while something my surroundings found particularly funny but I could appreciate less myself.
So today I am sharing one such's kind of memory with you. I wonder if you find it as hilarious as my mother did at the time.
A memory not everyone could laugh at
As a child I loved to play outside. Climbing trees, dredging ditches and scrounging in the meadow. I did this a lot with my nephew and niece. They lived in a detached house in the polder with a meadow behind it.
I remember that we often played there around the ditch or in the orchard. Also at our house in the neighborhood I often searched the ditches with girlfriends. We made a raft out of styrofoam and hoped we would stay dry. Nine times out of ten this was also the case but once in a while I was, together with a friend, in the ditch and was able to cycle home with a wet suit. I cared quite little about that, although it often did stink.
However, this never stopped me from playing at the ditch again the next day.
I have pretty good memories of trudging through the polder. However, I can remember one moment when I didn't find it so funny. It was winter and my cousin's ditch was iced over.
The ice was quite thick but also cracked. This made ice floes form in the ditch. Of course I found it very interesting to play on. Together with my nephew I was climbing over the ice floes.
You can feel it coming. It was going well the whole time and then suddenly I lost my balance and plunged into the icy water. Whereas in summer I never really cared, now I really didn't find it funny.
The water was near freezing so well cold. Also, this was such'a black ditch with bugs, so not exactly fresh and fruity. What made the whole thing traumatic, however, was the fact that my mother and my aunt broke down laughing. You can understand that this made me mad and so I started crying hysterically.
Of course my mother would burst out laughing. While I was completely out of my mind, my mother put me in the car to take me home. I had to sit on a rug with my dirty wet clothes. I distinctly remember seeing a leech on my pants.
That completed the dramatic scene for me. In the end, of course, it all worked out fine. (After my mom finished laughing.)
To this day, however, I do not understand why I was not allowed to take a shower and warm up at my aunt's house. I often borrowed clothes there after a mud party. Now I think about the fact that I was probably so angry that my mom and aunt laughed so hard that I was all over it.
I probably wanted to go home by myself.
Years later I can laugh about it myself but at the same time I remember exactly how I felt then, haha..
As a child I used to lie in the ditch regularly? Or am I the only one who got wet almost every week?
♥ ♥ ♥ Fulltime Mama uses affiliate links. This means that if you click on one of the links, we may get a small commission on it. It doesn't cost you anything extra, but it does benefit us. With these proceeds we can maintain this website.
Also, sometimes we get paid for an article or we get a product in exchange for a blog post. Because of this our opinion remains unchanged and honest. For more information you can read the disclaimer. ♥ ♥ ♥